Appsumo TruConversion Review & Price: AppSumo offers most of the useful software tools in deal every week. Using this opportunity any entrepreneur, small organization, and freelancers can develop their business. Likewise, TruConversion is a tool that is in the deal available this week in AppSumo.
TruConversion is an easy-to-use funnel tracking and optimization tool that offers heatmaps, session recordings, and form analytics to help you craft your best strategies. You can Easy funnel tracking and optimization with heatmaps, session recording, and form analytics. It helps to track your sales funnel's performance and optimize it for the best conversions.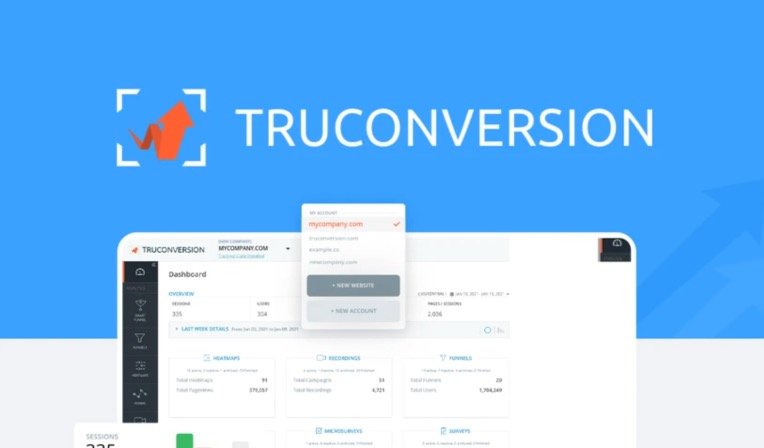 Intuitive smart funnels from TruConversion give you the scoop on which strategies are actually converting. With only a few clicks, you'll be able to track your funnels, set conversion benchmarks, and find out where you need to focus to make a positive impact on your bottom line. The smart funnels are constantly monitoring your funnels without you having to dig through dozens of analytics and spreadsheets to find what matters.
TruConversion Features
Heatmaps show you where your visitors scroll and click the most, so you'll know exactly where to put your most compelling content and calls-to-action. You can trigger heatmaps to start collecting data when it matters most by combining them with smart funnels. The main features of the tool TruConversion include
Quickly track your funnel's performance to find out what's working and what's not
Use optimization tools like heatmaps, session recordings, and form analytics, plus connect to customers with surveys
This tool TruConversion will be the best alternative tool to HotJar and Funnelytics. Also, this tool suits best for Marketing professionals, media managers, and email marketers looking to monitor and improve their funnels.
TruConversion lets you watch session recordings of individual browsing journeys to see where they click and what they skip. You can set recordings to trigger based on page activity, too, cutting down on volume and giving you the most relevant data for analysis.
You can quickly see which fields are getting filled and which ones are causing people to bounce, letting you easily iterate on your lead gen and checkout forms. These reports show you the conversion rate, abandonment rate, time on the form, time spent on each field, blank fields, and refill rate—all arranged in easy-to-read charts.
You can Get direct customer feedback with TruConversion's micro-surveys. You can Use the survey builder to create a detailed evaluation of customer satisfaction, net promoter score (NPS), or whatever else comes to mind. Both Surveys and micro-surveys give you the data you need straight from customers—plus, they're easy to build.
TruConversion Pricing
TruConversion lets you easily track your sales funnels and optimize them with heatmaps, session recordings, form field reports, and more. The actual price of the tool TruConversion is $499.00 but AppSumo offers it in a deal for low price $69 which will be a lifetime offer for a limited period of time.