Pitchground Predis Review & Price: The tool Predis.ai helps to Write better posts and generate more engagement using AI. Predis.ai's proprietary algorithms recommend hashtags, caption ideas and suggestions to improve your post and boost engagement. With the help of AI, you can decide better on critical aspects of Instagram posts such as time & day of posting, ideal caption length, and right hashtags to use.
Predis.ai is an AI/ML-based product that helps Instagram Marketers/influencers check and improve their Instagram posts before posting. Using AI, Predis shows how well a post can perform via an Engagement Indicator and gives suggestions to improve the post which results in better engagement. This tool helps you to understand what content is working for your competition.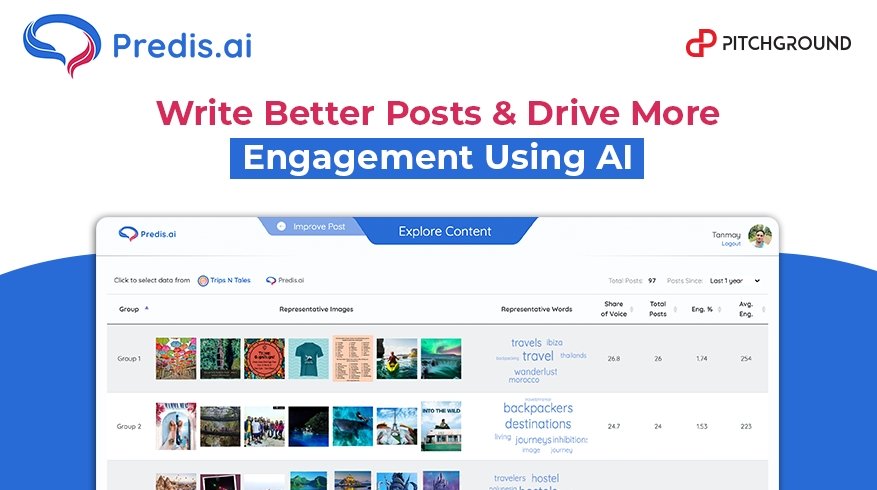 Predis also suggests Hashtags to help improve the post's reach and gives different ideas to better write your copy. Predis helps you understand how a post would perform and suggest improvements for the better performance even before you publish your post. This differs Predis from other social media analytics tool which usually works after a post is published.
Predis.ai Features
Predis' long term vision is to create an AI based marketing assistant which will create your monthly content calendar for each platform. You can choose to polish the posts before publishing or publish them directly. The short term vision is to launch the same set of features for other platforms such as Facebook, Twitter, LinkedIn, and TikTok. The main features of the tool Predis.ai include
Post Engagement Prediction – Always publish highly engaging posts.
Hashtag Recommendation – Pick the best hashtags for your posts
Content Ideas Recommendation – Having writer's block? Predis helps you
Scheduling Time Suggestion – Always post at the most optimal time
Competitor Content Analysis – Effortlessly decode competition's content strategy
This tool Predis suits best for Social Media Marketers Using Instagram (Agencies/In-house/Freelancers), Instagram Influencers, Content Creators and Brands and Businesses using Instagram for promoting their product/service. Also this will be the best alternaative tool to Flick.tech and Copy.ai
Predis Pricing
The tool Predis.ai available in four plans providing various features. The actual price of the basic plan of Predis is $228 but Pitchground offers it in a deal for $49 for a limited period of time.
Plan C $199/Lifetime $828/year