Kovalam lies near the southern tip of India on the west coast in the state of Kerala. The official language is Malayalam, but with a statewide literacy rate of up to 97 percent, you're never faraway from an English speaker. Malayalam is the most difficult Indian language to learn, but it's been said that if you can speak it, there is no language you can't learn.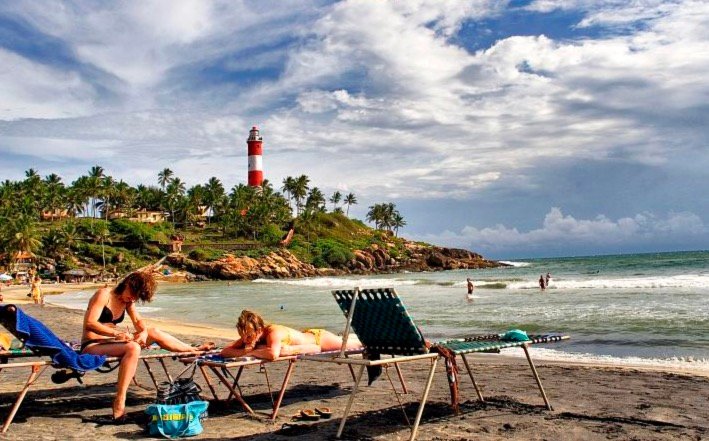 Kovalam is less busy than it's more northerly cousin, Goa. This is where you go when you want to unwind and enjoy nature, although you can find a party when you're looking for one. The surf on the beach itself can be treacherous, and the lifeguards strictly enforce the red flag system. When the flag is up, there are plenty of ways to occupy yourself: stroll through the many craft shops, laze on the beach with a novel, or fire up your smartphone and try your luck at sites such as India slots casino.
A pleasurable assault on the senses
From the moment your plane lands at Trivandrum Airport, your senses will be under continuous assault in the most wondrous ways. Your first sight will be a dense forest of palm trees. The cabin door opens, and you're engulfed in a heady cocktail of floral, fruity and spicy fragrances. 
Ushered through India's customs and immigration procedures by patient and polite bureaucrats, the country's powerful heat and 70 percent humidity stimulate sensors in your skin you never knew you had. South India sounds different, too, as you will learn from the constant cacophony of car horns on your way to your accommodation. 
Most hotels are only a barefoot walk away from delicious, fresh seafood from the morning's catch. Your tastebuds will tingle and sing after a plate of tandoori grilled tuna or tiger prawns served with vegetable pakora and washed down with a glass of Indian lager. From your garden-style table right on the sand only a few feet from the water, you can enjoy the blanket of stars, the colored lights of the restaurants and the fishing boats twinkling in the distance. 
Experiencing South India's highways
Motoring in Kerala resembles a Disney ride. Trucks are decked in colorful hand-painted livery and bear signs reminding fellow drivers to be kind to each other. A common slogan is, "Horn, please," reminding motorists behind them to honk as they overtake.
In addition to serving as moving billboards that attract business, the trucks carry a very personal message of the driver himself. The exteriors display political logos, religious images, Bollywood stars and other personal reflections of the individual behind the wheel.
But don't spare the horses getting to Kerala if you want to experience this marvelous spectacle. There is a growing trend toward printed stickers replacing hand-painted artwork. 
Excursions around Kovalam
If you can manage to tear yourself away from the warm waters of the Arabian Sea, endless supply seafood and fresh fruit delivered to your beach towel, there's plenty to do and see beyond Kovalam (you really don't want to miss those hand-painted trucks). 
Kanyakumari Beach
Situated on the extreme southern tip of India in the state of Tamil Nadu, Kanyakumari beach is eight degrees north of the Equator. Twice a year during the Spring and Autumn Equinox, you can take a boat and view the sun rising on one side and setting in the other.
A brief ferry ride from the mainland lies Vivekananda Rock, where Swami Vivekananda is said to have meditated for days, at the end of which he received spiritual enlightenment. He emerged from the experience with the belief that people of all faiths were all seeking the same things.
The Vivekananda Rock Memorial was established in his honor. Visitors here have indeed reported having deeply spiritual experiences. The memorial is also a haven for enthusiasts of Indian architecture, representing several different styles. This is a must see any time of year, even if you can't make it for an equinox.
Temples and Museums
You'll want to set aside some time to visit a few of these, if only to admire the intricate wooden carvings and the floors that were fabricated by hand centuries ago from coconut shells. Among those located within striking distance of Kovalam are Padmanabhapuram Palace, Napier Museum & Art Gallery and Shri Chitra Art Gallery, and the Vizhinjam Rock Cut Cave Temple.
The memories you create in Kovalam will stay with you for a lifetime. It's still relatively unspoiled by towering hotels and you can still find geckos, a native lizard said to be good luck, decorating your hotel room walls.