Appsumo Funnelll Review & Price: AppSumo offers most of the useful software tools in deal every week. Using this opportunity any entrepreneur, small organization, and freelancers can develop their business. Likewise, Funnelll is a tool that is in the deal available this week in AppSumo.
Funnelll helps you maximize your marketing campaigns by leveraging meaningful actions customers take on your website no code or complex integrations needed. You can use this tool to capture and track data in a meaningful way, so you can run your marketing campaigns like a pro. You can Teach your ads to get you more sales by leveraging user actions on your website.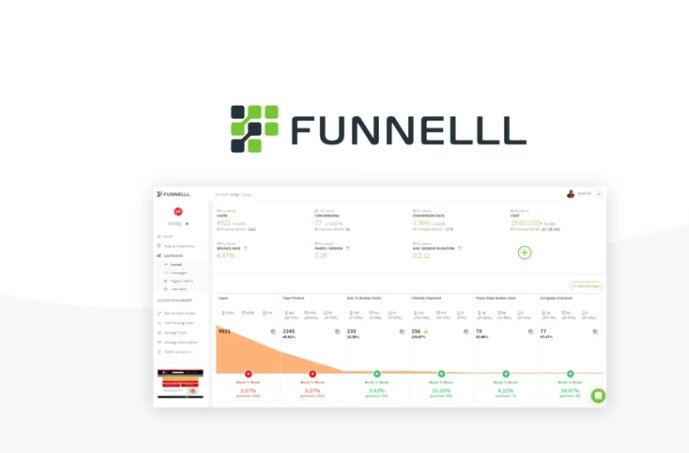 Funnelll makes it possible to spend your marketing dollars more effectively by allowing you to track customer actions on your website. You'll be able to use this data to teach your ad platforms how to send you high-quality leads. You can Set up tracking directly on your website, and choose which elements to track with point-and-click functionality.
Funnelll Features
You can install Funnelll on Shopify in just one step and start tracking conversions in no time. The main features of the tool include
Set up lead tracking visually without any code, and distribute events across your marketing and analytics tools
Integrate with your favorite marketing tools—Google, Facebook, and more—in one click while Funnelll handles the installation
This tool Appsumo Funnelll suits best for Marketing teams and agencies looking to optimize their marketing budgets by intelligently leveraging customer data. Also this will be the best alternative tool to Facebook Analytics, Google Tag Manager/Data Studio, and CustomerLabs CDP.
Funnelll integrates with WordPress, Squarespace, Weebly, Shopify, Google Tag Manager, and other web platforms. In just one step, you can set up Funnelll on your Shopify site to start tracking visitor actions. You can Invite team members to Funnelll and manage their access and roles to ensure that everyone has visibility around your marketing data.
Swipe to install the top marketing and analytics tools like Google Analytics, Facebook Pixel, Hotjar, Twitter Advertising, Google Ads, LinkedIn Ads, Slack, Stripe, and more. Replicate tracking across marketing and analytics platforms to standardize your marketing data.
With Funnelll, you can organize your data around the customer journey, from landing on your website all the way through checkout. You can Organize the data in your dashboard around the customer journey to get more valuable insights on sales-driving marketing activities.
Funnelll Pricing
Thus the tool Funnelll takes the guesswork out of marketing campaigns by helping you identify which marketing activities are working and adjust your strategy for best results. The actual price of the tool Funnelll is $1200.00 but AppSumo offers it in a deal for low price $49 which will be a lifetime offer for a limited period of time.