Appsumo Breakout Review & Price: AppSumo offers most of the useful software tools in deal every week. Using this opportunity any entrepreneur, small organization, and freelancers can develop their business. Likewise, Breakout is a tool that is in the deal available this week in AppSumo.
Breakout is a no-code orchestration platform that lets you automate workflows to better manage all your business processes. You can Design business workflows, no coding necessary. It automates your workflow that helps you to stay on top of deadlines and manage your internal processes.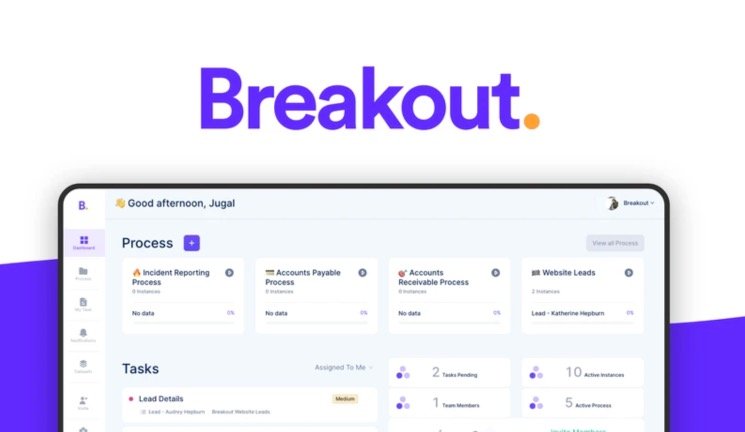 With Breakout, you can create processes that bring your teams, tools, and customers together, so your business runs smoothly. You get started by choosing from one of many built-in templates or create your own custom process from scratch. You can Access all of your processes, tasks, team members, and more from the central dashboard.
Breakout Features
Breakout will launch the relevant workflow based on your custom processes as requests come in via form, spreadsheet, or API. You can process management easy and streamline your internal requests like hiring, vacation, budget, travel, support, administration, and expenses. The main features of the tool Breakout include
Build workflows and checklists for your core processes while automating approvals and request management
Design public forms and portals to streamline your processes and workflows
This will be the best alternative tool to Pipefy. Also, this tool suits best for Tech/product teams, project managers, process owners, and solopreneurs that want to streamline processes to save time.
You can build a workflow in minutes without any coding using features like dynamic assignment, deadlines, dependences, and conditional logic. Project management just got a whole lot easier with Breakout's custom process boards and dynamic communication features.
With Breakout, you can design beautiful customized forms or portals with your branding, including your colors, logo, and images. You can Create your own custom forms, which you can even use outside of your organization. You can automate your repetitive tasks like assigning work, updating your CRM, sending emails, generating reports, updating statuses, and more—without writing a lick of code.
Breakout helps small and medium-sized businesses streamline any process with enterprise-level automations. Breakout's automation features work using if/then logic, so you can trigger an action when an event happens that meets a specified criteria.
Breakout Pricing
Breakout allows you to build and automate your processes without coding, so you can put your repetitive tasks on autopilot. The actual price of the tool Breakout is $830 but AppSumo offers it in a deal for low price $99 which will be a lifetime offer for a limited period of time.