Tata Sons Pvt. was selected as the winning bidder for India's flag carrier, ending decades of attempts to privatize a money-losing and debt-laden airline, and potentially ending years of taxpayer bailouts that's kept the company alive. Tata bought Air India with a bidding amount of Rs.18,000 Crore.
Tata Sons, which originally launched Air India Ltd. with a namesake branding in 1932, bid ₹ 18,000 crores ($2.4 billion) as an enterprise value for Air India, Tuhin Kanta Pandey, the top bureaucrat at India's Department of Investment and Public Asset Management, said at a briefing on Friday. The government aims to complete the transaction by the end of 2021.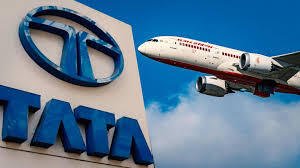 The high-profile sale is a boost for Prime Minister Narendra Modi, who has embarked on a bold privatization plan to plug a widening budget deficit, validating his stand of the state staying away from most businesses. For Tata Sons, Air India adds a third airline brand to its stable and gives it access to more than a hundred planes, thousands of trained pilots and crew, and lucrative landing and parking slots all around the world.
Bloomberg News reported last week that a panel of ministers accepted a proposal from bureaucrats, who recommended the conglomerate's bid ahead of an offer from entrepreneur Ajay Singh. The consortium led by Singh, who's also the chairman of budget carrier SpiceJet Ltd, bid ₹ 15,100 crores, Pandey said.
For Tata Group, Air India adds a third airline brand to its stable, considering the conglomerate already holds a majority interest in AirAsia India and Vistara, a joint venture with Singapore Airlines Ltd.
Air India — which hasn't turned a profit since its 2007 merger with Indian Airlines — holds prized landing and parking slots at London's Heathrow airport, which may help Vistara lure business travelers with direct flights to Europe.
The purchase will be a test of the group's aviation acumen. Tata Group has faced criticism for not running its existing aviation businesses efficiently, even though they represent a tiny portion of overall revenue.